Apollo the Wonder Dog
We did a lot of research before finding Pam and Perfect German Shepherds. Pam is top notch from start to finish throughout the entire process, and I feel like I have made a lifelong friend as well. We bought our beautiful boy in June of 2018 and we couldn't be happier. Owning a German Shepherd has been a lifelong dream for us. Apollo is everything we ever imagined and so much more. He is incredibly smart, alert, playful and has a wonderful temperament. He fits right in with our busy household and our two cats and older dog. He is doing great with his puppy classes and is well on his way to training as a service dog for our son who suffers from intractable epilepsy. We will absolutely be repeat customers. I have already and will continue to recommend Pam as a perfect breeder. You won't be disappointed.
Our perfect German Shepherd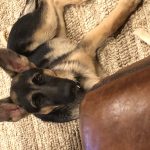 We purchased our girl from Pam. She should call herself the perfect breeder. This is our 3rd German Shepherd. By far, the best one yet. Her disposition is sweet, curious, and keeps us laughing. She's absolutely the perfect specimen of the breed. Thank you Pam for being a responsible, great breeder. We highly recommend her for your perfect German Shepherd.