Truly perfect puppy!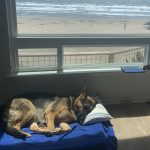 We picked our baby girl up in March 2019 and are amazed at how smart and funny she is. She's beautiful I'm every way!
Rick Vadas
Our baby girl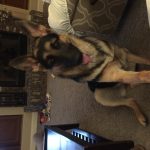 We are so impressed with our Sasha. She is a year old now (got from Pam in March 2018) and she has be such a joy. Her personality is so fun loving and playful but at the same time so well mannered. We bring her into church and she just sits in the pews, very well behaved… we can't thanks Pam enough for our Sasha girl…
Rick Vadas
Hello Pamela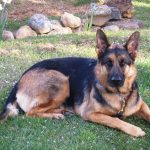 Hi Pamela, It was a pleasure talking to you yesterday. I have attached a photo of our beloved Gretchen of 13 years, whom we just lost in September. My husband and I are thinking about getting another one, but haven't really decided when that will be just yet, but would love to see pictures of your new litter. I also forgot to ask if you do any DNA testing for degenerative myelopathy or xrays for hip dysplasia?
Have a great day!
Maureen Olsen
Maureen Olsen
Love of my life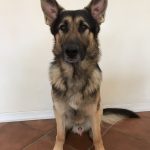 I got my boy Kaiser from Pam in January of 2017 and I have been in love ever since. Kaiser is the biggest lover and such a goofball but is also protective of me and his family. I have traveled all over the west coast with him and he has been able to easily adapt to many living and social situations with ease. He is my protector, my cuddle bug, my hiking partner, and my shotgun rider. I couldn't have asked for him to be any more perfect. I fall more in love with this boy everyday. I will never be able to tell Pam thank you enough!
Sarah Hubert
Best companion dog, ever!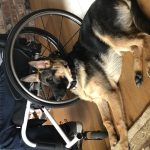 Little did we know our girl Tessa would become a wonderful companion dog for my husband. She's just 5 mos old and is very protective of him. Watches over him. Caring, loving girl. Yup, she's a true blessing in our family. Did I say a beauty too?
Kim Plant
Picture for my testimonial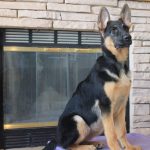 Picture for my testimonial
Denise Decker
The most well rounded dog ever
Sometimes a dog comes that changes everything. My Mijah was that girl.I gift her five years ago. She is the definition of what a GSD is supposed to be: fearless, sensitive, smart, athletic and loving.
I've gotten two dogs from Pamela. My new girl has received an AKC best of breed at ten weeks.
They are both beautiful dogs but what most continues to impress me is how stable and loving they are when I compare them to other GSDs.
I had a security manager come down from upstairs to tell me, "I've seem many dogs in this store but this is the best behaved dog I've ever seen in here."
If you love them, they will love you back with everything. They will trust you. Mijah would follow me of a cliff. They will not tolerate injustice, you have to train with love.
I suggest reading "All You Need Is Love." You will have the best partner ever.
Denise Decker
Apollo the Wonder Dog
We did a lot of research before finding Pam and Perfect German Shepherds. Pam is top notch from start to finish throughout the entire process, and I feel like I have made a lifelong friend as well. We bought our beautiful boy in June of 2018 and we couldn't be happier. Owning a German Shepherd has been a lifelong dream for us. Apollo is everything we ever imagined and so much more. He is incredibly smart, alert, playful and has a wonderful temperament. He fits right in with our busy household and our two cats and older dog. He is doing great with his puppy classes and is well on his way to training as a service dog for our son who suffers from intractable epilepsy. We will absolutely be repeat customers. I have already and will continue to recommend Pam as a perfect breeder. You won't be disappointed.
Nicole Allen
Our perfect German Shepherd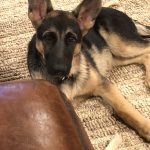 We purchased our girl from Pam. She should call herself the perfect breeder. This is our 3rd German Shepherd. By far, the best one yet. Her disposition is sweet, curious, and keeps us laughing. She's absolutely the perfect specimen of the breed. Thank you Pam for being a responsible, great breeder. We highly recommend her for your perfect German Shepherd.
Mark & Kim Plant